Boiler Access Systems
A scaffolding system which has achieved recognition from leading power generation companies.  It is quick and easy to erect using a combination of two basic components, Snap-Out and Spandeck.
Enquire about a similar project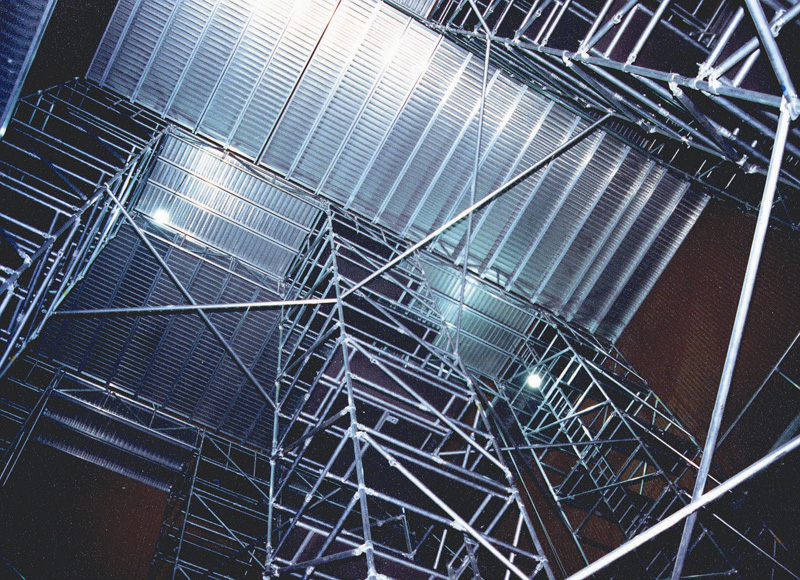 Boiler Access Examples
Boiler Scaffold Overview
Our boiler scaffold offers an unbeatable solution to access within enclosed or restricted areas such as the inside of power station boilers where it can be difficult and time consuming to enter using regular scaffold frames.  Its Snap-Out sections are compact and lightweight at approx. 40kgs.
A complete level of boiler scaffold folds neatly into an easily managed bundle that will pass through an aperture of 36cm.  Once it is in the work location, the bundle unfolds to form complete scaffold.
When inside the boiler the Snap-Out units can be instantly erected within seconds to provide a complete level of scaffold, 2m cube modules which interlock positively together to provide the main tower structures.  Our boiler scaffold has no loose parts and no tools, nuts or bolts are required for assembly.  Its unique folding system with no loose components prevent loss and incorrect assembly. Only the platform, ladder and toe boards need to be added.  The base structure is designed to sit firmly inside the V hopper providing a rigid foundation for the complete upper structure.
Spandeck is a lightweight aluminium walkway and decking system spanning up to 9m and providing a safe platform between the Snap-Out towers.  Our Spandeck has a unique reversible design and its double hooks allow it to be used individually as a catwalk, or side by side.